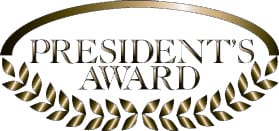 Ford selects a handful of dealerships every year that have the strongest levels of customer satisfaction.  The Ford President's Award was established in 1998 and highlights dealers that have outstanding customer service and satisfaction.  The Ford President's Award is based off of customer survey responses following their experiences in the Service or Sales departments.
Ford Motor Company says, "In order to achieve the President's Award, dealers must exceed customer expectations every day in every department.  The pursuit of excellence requires passion, tenacity, and hard work.  The award salutes those top-performing Ford and Lincoln dealerships that embrace these philosophies, achieving among the highest levels of customer satisfaction - in both sales and service - in automotive retailing."
SouthWest Ford has earned the Ford President's Award not only once, but six times.  SouthWest Ford is committed to making your vehicle experience phenomenal, all the way from the test drive to maintaining your vehicle with service.